Weapons are a major ingredient in the plot of the 'Nahbi' series of novels by Chuck Ervin.
For both the uninitiated and the enthusiast, here's a list of some of the featured guns that appear across the initial books in the series…
---
Beretta 92F pistol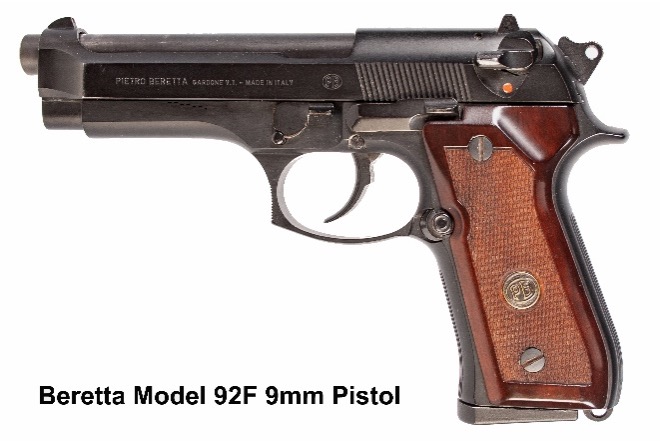 The Italian-made Beretta 92F 9mm pistol was chosen in 1985 by the United States Armed Forces to replace the Colt Model 1911A1. It has been in widespread use by law enforcement and military forces since its introduction. It is exceptionally accurate and can be used with custom loads and a sound suppressor.
---
Beretta Model 70 pistol
The Italian-made Beretta Model 70 is a .22 caliber semi-automatic pistol. The Israeli Mossad's Kidon unit agents often use this pistol as do other state-sponsored assassins from other countries. Israeli Sky Marshalls also use this pistol.
---
Baikal MP446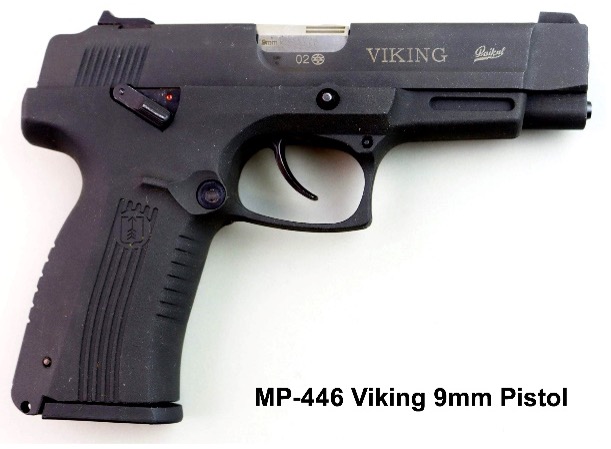 The Russian-made Baikal MP446 is the 9mm export version with an 18-round magazine and a polymer frame.
---
Glock 17 pistol
The Glock 17 is a striker-fired, polymer-framed 9mm pistol. The standard magazine has a 17-round capacity. They are durable and dependable. The Glock 17 is a full-size pistol that is used by the majority of police forces in the United States.
---
Glock 19 pistol
The Glock 19 has a polymer lower frame and is popular as a concealed, full-size pistol. It is accurate at self-defense and tactical distances. The double-stack magazine has a capacity of 15 rounds, plus one in the chamber.
---
GSh-18 pistol
The Russian-made GSh-18 is a 9mm semi-automatic pistol. It uses a rotating barrel with a short-recoil locked breech so it can handle high-velocity ammunition, such as the Russian armor-piercing 7N31 9X19 rounds. The double-stack magazine has a capacity of 18 rounds plus one in the chamber.
---
Makarov 9mm pistol
The Russian-made Makarov semi-automatic 9mm pistol was introduced in 1951 and is still in use around the world. It is a medium-size pistol that uses a straight blowback action.
---
Sig Sauer P226 pistol
The Sig Sauer P226 is a full-size handgun that many consider the best 9mm pistol in a crowded field of alternatives. It is in use by Federal agents, Navy SEALs, Texas Rangers, and numerous other law enforcement agencies. It is also popular with civilians.
---
Sig Sauer P226 MK25 pistol
The Sig Sauer P226 MK25 is an example of the highest standards of engineering and gunsmithing.  It is a easy to shoot and can be equipped with high-capacity magazines, an internal guide-rod laser, and a tactical light. It is reliable and accurate.
---
Sig Sauer P938 pistol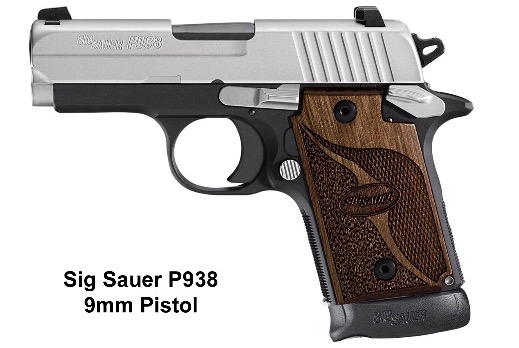 The Sig Sauer P938 is a compact, semi-automatic pistol chambered in 9mm.  The slide is easy to rack. With high-quality, hollow-point ammo, the P938 is a nearly ideal concealed carry weapon.
---
Sig Sauer P239 pistol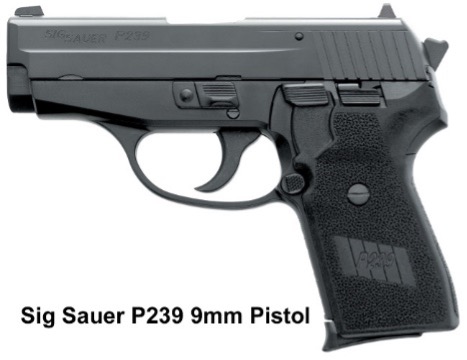 The Sig Sauer P239 is a locked-breech semi-automatic pistol available in 9mm, .40 S&W, or .357 SIG. Its magazine is a single-stack design. The 9mm mags are available in eight and ten round versions while the .40 S&W and .357 SIG magazines hold eight rounds.
---
Sig Sauer P556 pistol
The Sig Sauer P556 provides the defensive capability of a combat rifle in a very compact size. It's nearly ideal for self-defense but is also a formidable tactical weapon for tight quarters.
---
Heckler & Koch MP5SD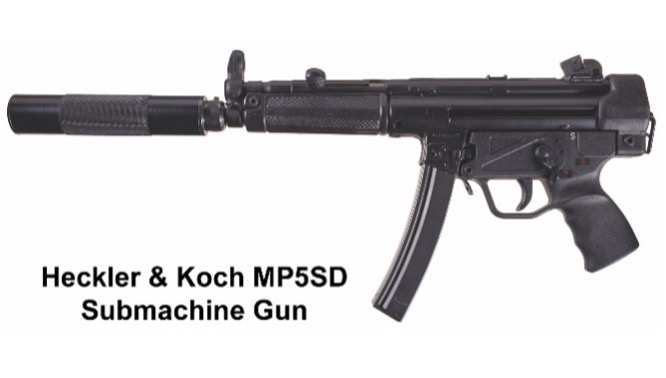 The Heckler & Koch MP5SD has been popular with military units and SWAT teams world-wide for over 50 years. It is one of the most widely-used 9mm submachine guns in the world.
---
Travor X95
The X95 is a polymer-frame bullpup design manufactured in Israel. It was originally chambered in 5.56/.223 but is easily converted to a 9mm submachine gun that is used by many Special Forces and SWAT teams.
---
Uzi Pro 9mm
The Uzi Pro 9mm machine pistol is manufactured in Israel and is one of the top choices of law enforcement and military agencies worldwide. Magazines are available in 20 and 25 round versions.
---
Colt M4 carbine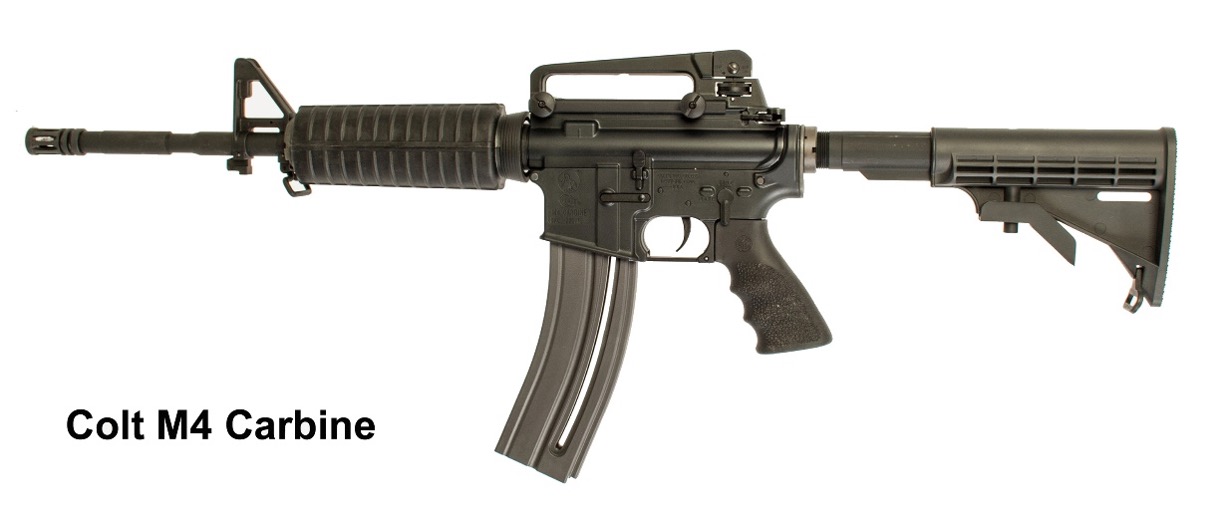 The Colt M4 carbine is an AR-15 type rifle chambered in 5.56. It is extremely accurate at ranges of up to 200 yards. A 9mm variant is also available that is popular with Special Forces and SWAT teams.
---
Heckler & Koch HK416
The Heckler & Koch HK416 5.56mm assault Rifle is a preferred weapon for many Special Forces units worldwide. The standard magazines hold 30 rounds.
---
AK-74

The AK-74 rifle is manufactured in Russia. It was widely used in Afghanistan, first by Russian troops and then later used against them and the Americans. It fires a 5.45mm round. The AK-74 of today is an improvement on designs dating back to the 1940s.
---
AK-9

The AK-9 assault rifle traces its roots back to the AK-47 of the 1940s.  It has an integrated sound suppressor that works well with subsonic 9X39mm ammunition. It is the assault weapon of choice for the Russian Special Forces.
---
FR-F2 sniper rifle

Manufactured in France, the FR-F2 has been used by the French Army since 1986. It is chambered in .308 Winchester (7.62X51mm NATO). Capacity of the standard magazines is 10 rounds. It has an effective range of 800 meters.
---
Holland and Holland Weatherby Mark V
The Holland and Holland Weatherby Mark V .375  bolt-action rifle is considered by many big game hunters to be one of the finest large caliber rifles ever produced. A previously-owned deluxe model of this rifle can cost more than twenty thousand dollars on the international market.
---
Benelli M4

The Italian-made Benelli M4 was initially designed for the U.S. Marine Corps and was designated the M1014. It's a gas-operated semi-automatic shotgun designed for tactical use. The French Special Forces, the Irish Special Forces, the Israeli Special Forces, the SAS and many law enforcement agencies consider the Benelli M4 as one of the world's finest semi-automatic tactical shotguns. It has a reputation for absolute reliability even when dirty.
---